ORGANIZATION CHART OF THE TEAM


LIFE+ Pétrels
FUNCTIONAL TEAM

Division LIFE+ Petrels


Lucie LABBE, Project leader recruited by the National Park; Lucie manages all the administrative, financial and managerial aspects of the project.

Patrick PINET, Scientific manager of the project, recruited by the National Park; Patrick coordinates all scientific and field activities.

Djamila SIDAT, Communication officer recruited by the Réunion National Park; Djamila handles all the communication required by the project and also educational activities with partners.


Jérôme DUBOS, assistant engineer recruited by the University of La Réunion, is in charge of various scientific studies and experiments on tracking the first black petrel burrows.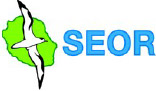 Martin RIETHMULLER, Project Manager recruited by the SEOR, organises schemes to reduce threats to the petrel (introduced predators, cats and rats, light pollution).

Fabien JAN, Technician recruited by SEOR which is mainly involved in the implementation and practical site of initiatives, including the installation of acoustic recorders, eliminating threats, etc.