REUNION NATIONAL PARK
Created in 2007, the Réunion National Park was born out of the realization that the exceptional and unspoilt nature and landscapes of the island's interior needs to be protected for future generations.

Brigade Nature Océan Indien (BNOI)
Created in 1994 and run by the Directorate of Planning, Environment and Housing (DEAL) of Reunion, the BNOI has 8 environmental inspectors belonging to the National Hunting and wildlife Office (ONCFS), the National Agency for water and aquatic environments (ONEMA) and the Réunion National Park.

L'Office français de la biodiversité (OFB)
The OFB is a public institution belonging to the Ministry of Ecology and Agriculture, and has five main objectives

University of Reunion
Thanks to its research units and its Bachelors and Masters courses, the University of Réunion is very active in the fields of biodiversity and conservation.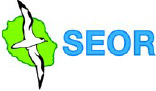 The Society of Ornithological Studies of Reunion (SEOR)
The Society of Ornithological Studies of Reunion (SEOR) is responsible for the conservation of birds in Reunion. Founded in 1997, it is now very well established on the island and leads the way in conservation and public awareness.

REUNION DEPARTEMENTAL COUNCIL
For more than twenty years, the Departmental council has been protecting and enhancing biodiversity and vulnerable natural areas.

DEPARTMENT OF ENVIRONMENT, PLANNING AND HOUSING (DEAL)
DEAL replaces the DIREN (Regional Department of the Environment), the DDE, The Police de l'Eau (Department of Agriculture and Forestry) and DRIRE (regional directorate for industry, research and environment), except industrial development and metrology.